Krogmann Flatbeds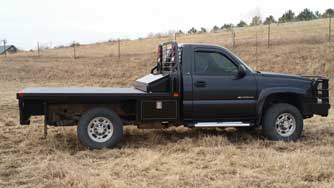 Flatbed side view.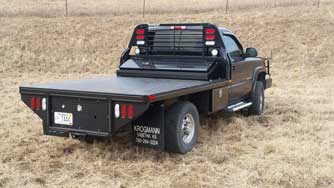 Flatbed corner view.
Flatbed rear view.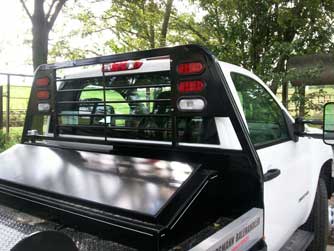 Headache rack lights.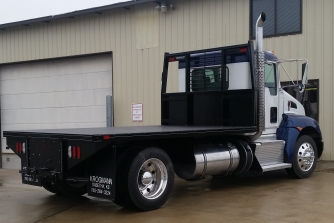 Custom flatbed truck.
Krogmann Manufacturing announces heavy-duty constructed flatbeds for both dual wheel or single wheel pickup trucks used in farm and ranch operations, construction and commercial landscaping. These flatbeds are built with 5" channel iron main frame and watertight, sealed beam 3" cross members. The deck plate floor is made with 1/8" steel. This unit is equipped with a recessed 30,000 lb. rated gooseneck ball for towing fifth wheel trailers. A heavy-duty receiver hitch for pulling trailers is attached to the frame. Rub rails for added protection along with stake pockets help with securing the most demanding loads. The protective headache rack offers solid protection to the truck cab. LED taillights and backup lights as well as mud flaps are also standard equipment. Desired options included side toolboxes, across-the-bed boxes, headache rack lights and work lights. Custom flatbeds are available for shorter or longer configurations.
Krogmann Flatbed Specifications
5" channel iron main frame and watertight, sealed beam 3" cross members
1/8" deck plate floor
30,000 lb. gooseneck ball
Receiver hitch
Rub rails and stake pockets
Headache rack
Taillights and backup lights
Mud flaps
Optional side toolboxes, across the bed boxes, headache rack lights, and work lights
Flatbeds for dually wheel or single wheel pickups
Custom shorter or longer flatbeds available
Flatbeds for Semi Trucks
Krogmann Manufacturing announces flatbeds for semi trucks and large capacity commercial trucks. By building the same quality flatbed in larger custom sizes that fit a wide range of trucks, more industries like construction, landscaping and transportation can be served. As expected, these flatbeds are built sturdy to withstand the hard use they get in the field and on the road. They are built with a heavy-duty main frame and with watertight sealed cross members on 12" centers. The heavy-duty rear hitch, rub rails and stake pockets are made to take the regular abuse of hard work. Optional, recessed 40,000 lb. rated gooseneck balls for towing fifth wheel trailers are available. Other features include LED marker and tail lights, double insulated wiring, custom headache racks, mudflaps and optional toolboxes. Krogmann Flatbeds are built and designed in custom widths and lengths that can fit a wide range of large trucks and semis. For more information contact Krogmann Mfg., Sabetha, KS 785-284-3224