The Krogmann BaleHandler – Hydraulic balebed / flatbed for pickup trucks built to handle big round hay bales by Krogmann Manufacturing, Sabetha, Kansas.
The Leader in Balebed Engineering with Patented Arm & Spinner Design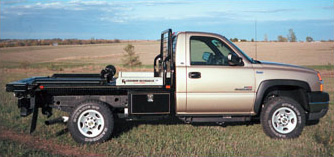 Balebed side view.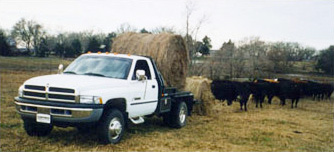 Bales on balebed white Dodge.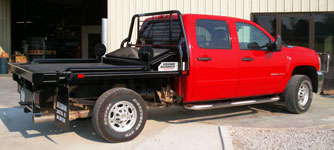 7 1/2' Long balebed on short wheelbase pickup.

4-door dually bed pickup.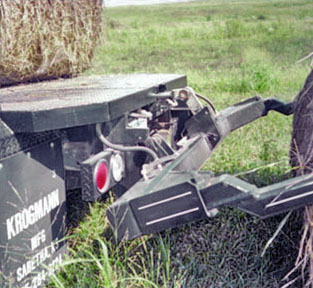 Balebed lift closeup.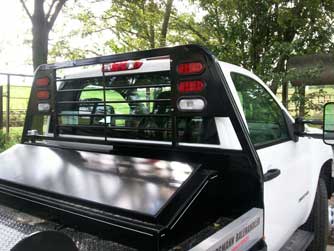 Headache rack lights.
Krogmann's BaleHandler is excellent balebed/flatbed equipment for standard and dually trucks available in 7' or 8' widths. With its lifting capacity of 2500 pounds, this machinery is for the serious cattlemen, sportsmen and livestock agricultural producers served throughout the United States. Krogmann Balebeds are for both new and or older pickups. The package includes standard features which make Krogmann the preferred choice. Optional components such as custom building for shorter or longer pickup beds and third spool valves offer flexibility to fit unique needs around the farm and ranch. Engine driven or all electric models are available. Contact Krogmann with questions or to get more information.
Krogmann engineering doesn't stop with the hydraulic Balebed they manufacture. Another of our products, the Carry-All, handles 4-wheelers, small equipment and materials on the farm and ranch and is used to hydraulically lift, haul and dump. We also manufacture across-the-bed, underbody side toolboxes.
Krogmann Balebed Standard Features and Specifications
Recessed 30,000 lb. Gooseneck Ball
Rear Drop Hitch
Double Headache Rack
Extendable Spinners
Mudflaps
Steel Sides
Sealed Beam LED Taillights
Sealed Beam Back-up Lights
Toggle Switch Controls

Pioneer Quick Couplers
Single Wheel Pickup 7' Bed Width
Single Wheel Pickup 9' Bed Length
Dual Wheel Pickup 8' Dually Bed Width
Dual Wheel Pickup 9' Dually Bed Length
2500 lb. Lifting Capacity
Fully Synchronized Squeeze Cylinders
3 Year Warranty
Feedback proves Krogmann's "workhorse reliability and satisfaction".
"I believe the Krogmann Balebed is the most outstanding bed on the market. I like the features this bed has over the competition." Roger Miller, Booker, TX
"We've used Krogmann Balebeds for everything you can think of - from loading granaries, posts, cattle chutes, panels and everything in-between. We have two of them, can't and wouldn't be without one." Berle Jamison, Ashby, NE
"I think, the Krogmann Balebed is the most economical bed on the market. I've had my balebed for about 5 years now and had very little trouble. It's simply a good buy." Roger Burdick, Circleville, KS
Please call for further information or stop by for a demonstration.
1/8" deck plate with heavy 3" channel iron cross members on a 5" channel iron main frame offers a tough, long lasting bed for many years to come.
Arms fold down on top of the bed to make self-forming sides.
Cylinders are enclosed in the rear tube for safety and durability, with end cap access.
Clean design has less area to catch hay and bind.
30,000 lb. recessed gooseneck ball under trap door.
Spinners, set above the bed, do not have to be removed when setting down the arms. They will not hit the bed and will manually extend up to 16" for ease in putting bales in feeders.
Rear access door hinges forward so cylinder doesn't damage it. Flush mounted stainless steel hinges make a smooth surface.
Custom-built shorter or longer beds. Optional third spool valve for constant on.
Across-the-bed toolbox 70"L x 10"H x 20"W – complete with stainless steel hinges, tray and gas shock.
Side toolboxes 30"L x 17"H x 12"W – standard size of 12 ga. steel with stainless steel hinges and latch. Complete with dual chains which offer enough support so the door can be used as a step.
New 8' wide bed or flared standard bed for dually pickups.
Carry-All attachment lets you lift, haul and dump.
The Krogmann Balebed looks great on new pickups or older models!
Haul two big bales with ease from the comfort of your pickup.
Specifications
Width
Single: 7', Dually: 8'
Length
9'
Lifting Capacity
2500 lbs.
Pump
Engine-driven or all-electric
Lift Cylinder
One 4' X 20"
Fully Synchronized Squeeze Cylinders
Enclosed in the rear tube of the bed with easy access
Recessed Gooseneck Ball
30,000 lb. ball
Electric Solenoid Valve
Toggle switch controls
Hinged Arms
Close to 3', open to 7'
Spinners
Manually extend up to 16", removable
Construction
1/8" deck plate, 5" channel iron main frame, 3" channel iron cross members, 5" X 5" X 3/8" structural tubing
Toolboxes
12 ga. steel, stainless steel latch and hinges, gas shock
Warranty
Three years