Balebeds, Flatbeds, Carry-Alls and Toolboxes by Krogmann Manufacturing, centrally located in the USA at Sabetha, Kansas
The best quality hay equipment at the best price - Krogmann since 1989.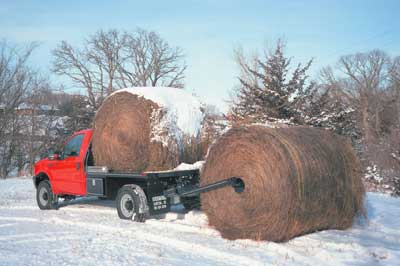 Krogmann is a family-based manufacturing business which serves cattlemen, sportsmen and livestock agricultural producers throughout the U.S. with dealers in the U.S. and Canada. With great customer referrals, Krogmann Mfg. continues to grow. We are dedicated to providing economical, practical and superior quality equipment for bale handling, feeding and other country lifestyle chores that include lifting and dumping.
Balebeds
Flatbeds
Carry-Alls
Toolboxes
The Krogmann BaleHandler allows you to load, haul and feed large round bales with a flatbed truck engineered with hydraulic arms. Items such as 4-wheelers, small equipment and materials found on the farm and ranch can be handled by our Carry-All which is used to hydraulically lift, haul and dump.
We are a family-based business located just south of Sabetha, Kansas, in the Northeast corner of the state. We manufacture balebeds, carry-alls and toolboxes. We have been in business since 1989 and our goal is to offer you, the customer, the best quality at the best price.